Home








Strategies For You & Affiliate Chapters




History




Message Board




Photo Album




Donate




Contact Us



Strategies For You & Affiliate Chapters



There are a number of ways that you can promote the pro-life message in a sincere, factual, and compassionate manner.

Some projects are easier to execute as a team. If you are not a member of a local chapter, please join one. If there is no chapter in your county e-mail us at acl4life@gmail.com to see if a chapter is in the process of being formed in your county. Click here for a list of our ALCFL Chaters.

Below are a number of ideas you and ALCFL County Chapters are encouraged to use. If your experience can add or refine any of these ideas, your contribution is most certainly welcome. Our goal is to have a complete menu of communication /educational options.



Pick a project to educate all people about pro-life issues:

Billboards
Billboards are designed on vinyl or paper. Vinyl costs three to four times as much as paper but last a lot longer. Paper lasts about 2 months. Call local billboard companies for pricing. Ask about rotating billboards. The big advantage is that if the billboard company does not have anyone to take a billboard that you are scheduled to be taken off, they may just leave you there for free until they find someone to take your place!

Go To Top


Breakfasts or Dinners
An Annual Breakfast or Dinner is a great place to set up a literature table, display pro-life poster or show off posters from a Poster Contest, feature a pro-life speaker, give area churches a chance to show their support for life issues, and is a great opportunity for pro-lifers to meet and share experiences and enjoy each others company.

There are so many prolife items to choose from for dinner favors: fetal models, bookmarks, stickers, pencils, pens, buttons, stickers, magnets... - all that can give a prolife message.

If your region has had an Oratory Contest prior to the breakfast/dinner, invite the top 2 winners to speak at your dinner. Their parents and family will come and what great practice for states!

Invite all the winners of any teen contest you have. It is great pro-life exposure for them. Give out the awards at the dinner perhaps by the mayor or other pro-life elected official. The winners will bring a parent and maybe other family members.

An Annual Breakfast or Dinner is also an opportunity to make some money by having Platinum/$250, Gold/$100, Silver/$50, and Bronze/$25 Sponsors for the dinner. Businesses that are reluctant to give money may be very willing to donate a Silent Auction item that will draw business for them. Start your Silent Auction about a half hour before the dinner. When most people are finishing up their breakfast/dinner announce that there is 10 minutes left for the Silent auction and then close it just before the speakers take the podium. Instead of a Silent Auction, sell tickets for a Chinese auction. Don't forget to save aside a couple choice items for door prizes. People remember dinners that have nice door prizes!

Don't forget to take pictures of the speaker, the students, award presentation by elected official. They will draw more attention to your press release for the newspapers.

Go To Top


Email Alerts
Sign up for Email Alerts and forward them on to your members, friends, and family.

Go To Top


Email Newsletters
Sign up for Email Newsletters to keep informed and encourage others that you know to sign up for them.

Go To Top


Essay Contest
Run your Essay Contest the same time as your Oratory Contest to save time in advertising. Regionalize it so that you can give bigger prizes. Do the whole thing by email to save on postage. Email the flyers if possible. Have the students email their essay IN TEXT FORMAT to the coordinator. The coordinator emails the essay and judging sheet to the judges. The judges email back their evaluations and the coordinator tallies them to determine the winner. Email press releases to newspapers and fax congratulatory public service announcements for some pro-life publicity. Have the awards given out by an elected official at a prolife breakfast or dinner for even more publicity!

Go To Top


Letters to the Editor
Write one of your own or use/modify one that is already written. How To Tips

Go To Top


Literature Table Setups
There are a number of very good brochures on every pro-life issue. Fetal models are a big attraction especially the ones that weigh the same as a fetus would at that particular stage. The Precious Ones 12 week fetal models are especially nice to the touch and are great to give away. Balloons and posters along the front or your table draw people to see what you have as does a 4D Ultrasound video. If you would like to purchase a 4D Ultrasound video very inexpensively, $11, click here.

A popular place to have a literature table is at the county fair. Look for other opportunities to display your pro-life literature and definitely put it up at your Annual Breakfast or Dinner.

Go To Top

Mailings - Newsletters, Flyers, Postcards
Mailings take a bit of effort but you can eliminate the printing, collating, folding, stuffing envelopes, addresses, stamping and mailing of your newsletter by letting the US post office do it through their website. Their NetPost Services prices are reasonable. Just click here to check out the variety of ways you can get your pro-life message mailed and get started! Choose one and click on Sign In to register for USPS services. Upload your design and your mailing list. Have your credit card info ready for payment and don't forget to print out the reciept for reimbursement from your chapter. A postcard will be mailed the same day if you complete the transaction before 2pm!

Go To Top


Oratory Contest
An Oratory Contest is to be run regionally so that the top two (2) winners can enter the Alabama State Oratory Contest, the winner of which will be able to compete in the National Jane B. Thompson Oratory Contest held at the National Right to Life Convention in June. Click here for an outline for running your Regional Oratory Contest.

Go To Top


Poster Contests
Poster Contests are another way to get students interested in pro-life issues. Contact church youth groups, private schools, and home schoolers for a good turnout.

Decide on rules: size and quality of paper, what materials can be used (crayon, markers, paint), hand drawn only or include clippings or a collage, etc. Copyrighted characters (such as Snoopy), product logos, and brand names should not be used.

Judge the posters on pro-life message, neatness, originality, clarity, accuracy - for some ideas.

Go To Top


Press Releases
Always go for a press release before you run an ad so you don't have to pay for it. Try to include a picture(s) as the article will draw more attention. Mention every name you can. Most newspapers make it very easy to email a press release. End your press release with centered "###" especially if you have comments that are not a part of your release. Make sure you include your name, group name, and phone number so the newspaper can contact you for verification and questions.

Go To Top


Radio PSA
Again always try for a public service announcement so that you do not have to pay advertising costs. Call the radio station first to find out if they would rather receive your radio spot by fax or email. Spell things out as you want them to be read. For example, "A L for Life dot org" instead of "AL4Life.org".

Go To Top


School Newspapers
Some school newspapers allow articles by outside groups - some do not. Most prolife press releases on advertising pro-life contests will have to be approved by the school administration. Don't forget to try for press releases that congratulate winners of your contests. Take the opportunity to advertise in the football and other sport programs. Just call the school office and ask for the advisers mail box and/or email address.

Go To Top


Teenbreaks Cards
www.teenbreaks.com is a fantastic site for teens. Supported by the Rosetta Foundation, they have exceeded 5 million visits and have another 40,000 visits from other websites.

The Rosetta Foundation spends $400 a day, bidding in Google ads, making sure they come up first in Google if anyone should type in the keywords: "abortion", "teen abortion" or "teen pregnancy." They run out of money around 1pm each day. At that point, state contributions to the Rosetta Foundation can keep teenbreaks.com number 1 in their state through a special Google state setup.

Make up business cards that advertise teenbreaks.com and pass then out to the youth groups in your county. Design and get 250 cards for free at www.VistaPrint.com - Check out this Sample Design.

Promote teenbreaks.com for teens, wherever you can. Perhaps your chapter could tithe donating 10% of your receipts to teenbreaks.com. If you are interested in more information, contact: Sandra Faucher, President, Rosetta Foundation, 93 Young Rd, Augusta, ME 04330, 207-622-7458, rosettafound@aol.com

Go To Top


TV Commercials
A great resource for pro-life TV advertisements is www.virtuemedia.org. They are beautifully and professionally done. It's obvious that the creators are very pro-life. Contact your local TV stations for advertising details for a particular station.

Another great pro-life media resource is the United For Life Network

Go To Top


Umbert the Unborn
Umbert is an unborn baby in his very own comic strip now reaching more than 750,000 readers worldwide. Umbert the Unborn appears in more than 100 publications. Click on cartoon below to go to Umbert's website.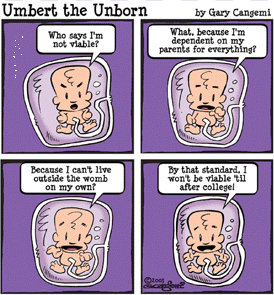 Go To Top
Voter Guides
Contact the Alabama State office at 334-538-2913 for Voter Guides on the upcoming elections.


Go To Top
Pro-Life Quote by Thomas Jefferson
"The first and only legitimate object of good government is the care of human life, not its destruction." - Thomas Jefferson to the Citizens of Washington County, Maryland, March 3, 1809
This site maintained by
Creighton Web Services
1.814.623.1314