Home




Tammy's Corner




Post Abortion Syndrome




I have a great story to tell you!




Map




Message Board




Photo Album




Donate




Contact Us



Post Abortion Syndrome
Feeling depressed from having an abortion?

We Offer Emotional Support

Please call our 24 Hour Helpline
740-942-9735
Toll Free 1-877-942-9735




You can also get help from the websites below.
Just click on the pictures.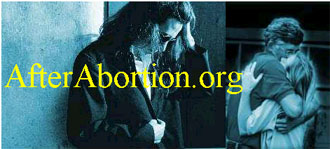 | | |
| --- | --- |
| Set yourself free from the negative feelings and behavior you feel from your abortion. | |

Matthew 25:40
Whatever you do to the least of my brothers, that you do unto me.
This site maintained by
Creighton Web Services
1.814.623.1314